Poster Number:
894811
A Microparticle-Filled Drinking Straw for the Delivery of Metformin/Gliclazide Sustained Release Fixed Dose Combination
Formulation and Delivery - Biomolecular - Drug Delivery, Devices, and Drug Device - Patient-Centric Development
Author(s):
Kavil Patel, n/a1; Darragh Murnane, Ph.D.1; Craig Richardson, Ph.D.2; Fang Liu, Ph.D.2
1University of Hertfordshire, 2Fluid Pharma
Purpose:
Metformin and gliclazide combination treatments are used for the increasingly prevalent type II diabetes mellitus, the seventh leading cause of global mortality (World Health Organization, 2019). To improve compliance, sustained release (SR) formulations exist however they are not suited for patients who suffer from dysphagia. Metformin is available as a SR matrix tablet which is approximately 2cm long, a size which the majority of adults would struggle to swallow (Fields et al, 2015). An easy-to-swallow once daily combination product comprised of metformin and gliclazide microparticles is therefore an attractive treatment option for patients. The project aim is to utilize sustained release microparticles and a straw delivery device to develop an easy to use metformin and gliclazide combination product for patients with dysphagia.
Methods:
Microparticle Drug Loading
Microcrystalline cellulose (MCC) spheres with approximate diameter (D50) of 131µm (Cellets® 100, Pharmtrans Sanaq AG, Switzerland) were layered with either metformin or gliclazide using a fluid bed coater with Würster insert (Mini-Glatt, Glatt GmbH, Germany). The drug was dissolved or suspended in a hydroxyl propyl methylcellulose (Methocel E5, Colorcon Inc, UK) solution and talc (Talc Pharma M, Imerys, Italy) was added as an anti-tacking agent. Drug loading was completed at 50 % weight gain.
Sustained Release Coating
Drug loaded MCC spheres were coated using the same fluid bed coater. Eudragit® NM 30D (Evonik Industries AG, Germany) aqueous dispersion was applied containing 100 % (w/w) talc based on dry polymer. A novel MicroCoatTM technology was utilized during coating the microparticles by adding 0.1 % w/w (based on batch size) magnesium stearate every 15 min during coating process via an external port (Mohylyuk et al, 2020). Coating weight gain after polymer application (CL) was targeted at 200% and 30% for metformin and gliclazide loaded particles respectively. Percentage yield of the coating process was calculated based on the proportion of freely flowing and non-agglomerated particles post discharge.
Particle Size Measurement
Particle size (D50) was determined using laser diffraction (Helos Rodos, Sympatec GmbH, Germany). Approximately 0.1 g microparticles were used and each batch was tested three times. The trigger conditions for laser diffraction were as follows: 2.0 bar, 4 mm line, 50 mm/s.
Drug Release Determination
Drug release was measured using USP II (paddle) apparatus with a paddle speed of 100 rpm at 37 ± 1 °C with in-line automated UV spectrophotometric measurements.
Metformin: 1L of pH 6.8 phosphate buffer solution (PBSol) and 235nm wavelength
Gliclazide: 900mL of pH 7.4 PBSol and 226nm wavelength 
Microparticle-filled Straw as a novel delivery device
A dry powder formulation comprising a combination of coated sustained release metformin (500 mg dose) and gliclazide (30 mg dose) microparticles were mixed with suspension agent carboxymethylcellulose sodium and MCC (Vivapur 811P, JRS Pharma, Germany), silicon dioxide (Syloid AL1-P, Grace, USA) and isomalt (GalenIQ 721, Beneo, Germany). The powder mixture was incorporated into a straw with one open end and one 100 µm meshed ending (Figure 1).
Straw performance was evaluated by measuring the volume of water required to achieve full extraction of the microparticles and the appearance of the resulting liquid. For standardization purposes, extraction from the straw was done using a 60 mL oral syringe.
Results:
Sustained Release Coating Outcomes
For the coating trials of metformin and gliclazide loaded microparticles, production yields were 98.1 and 98.9 %, respectively. The average particle size for metformin and gliclazide coated microparticles were 248 ± 13.6 µm and 201 ± 6.1 µm, respectively.
Drug Release
SR metformin microparticles showed 10 h controlled release and SR gliclazide microparticles showed 15 h controlled release (Figure 2)
Straw Performance
The success of extraction of the suspension was dependant on the inclusion of excipients. Without any excipients, the microparticles did not flow once wetted. The addition of 0.5 % w/w silicon dioxide and 25 % w/w isomalt based on microparticle weight improved microparticle flow when wet and allowed  full extraction in 20 mL of water (Figure 3). The addition of 0.75 % w/w carboxymethylcellulose sodium with MCC based on microparticle weight increased solution viscosity and did not inhibit extraction.
Conclusion:
The application of the MicroCoatTM technology allows the coating of microparticles which are small enough to provide a patient-centric formulation. The utilization of a straw device helps to treat patients who struggle to swallow the large tablets such as paediatric and geriatric patients and thus improving patient compliance and therapeutic outcomes for patients suffering from type II diabetes mellitus.

Figure 1. (a)Schematic diagram to show 'straw' device (1 = sealed ends to be cut before use, 2 = mesh to allow movement of suspended microparticles, 3 = arrow to show direction of extraction, 4 = microparticles mixed with suspending agents, 5 = water soluble membrane or 'plug' to allow penetration of water but not dry powder excipients, (b) Empty prototype of straw device and (c) Filled prototype with microparticles and excipients.

Figure 2. Drug release (mean±SD, n=3) from Eudragit NM coated microparticles with MicroCoat™ technology: a) Gliclazide b) Metformin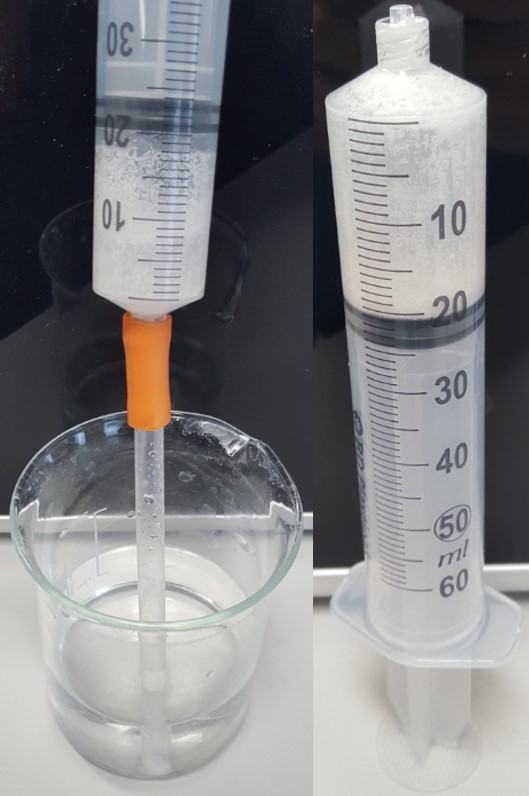 Figure 3. Extraction of microparticles from straw device and the resultant suspension
References:
1. World Health Organization Diabetes. [online] Available at: https://www.who.int/news-room/fact-sheets/detail/diabetes [Accessed 5 Nov. 2019] (2019)
2. Fields, Jeremy, Jorge T. Go, and Konrad S. Schulze. "Pill properties that cause dysphagia and treatment failure." Current Therapeutic Research77: 79-82 (2015)
3. Mohylyuk, V., Patel, K., Scott, N., Richardson, C., Murnane, D. and Liu, F., 2020. Wurster Fluidised Bed Coating of Microparticles: Towards Scalable Production of Oral Sustained-Release Liquid Medicines for Patients with Swallowing Difficulties. AAPS PharmSciTech, 21(1), p.3.